"Our greatest joy and our greatest pain comes in our relationships with others." – Stephen R. Covey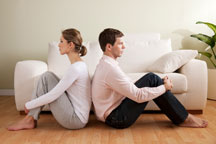 As Marriage and Family therapists, we work with people to help them improve all kinds of relationships: couples, parent and child, siblings, and business colleagues. In many cases, just a few therapy sessions can make a real difference in improving the quality of the communication, and building an understanding of the expectations within a relationship.
Every member of our staff is a licensed Marriage and Family Therapist or registered intern, and much of our therapy is done with couples and families, regardless of whether alcohol or substance abuse is an underlying issue.  Each of our therapists has their own approach to relationship work, and we always practice therapist/client matching, which really means that you have a choice in the best therapist for you.
Some of our therapists are highly trained in Imago Relationship Therapy, based on the work of renowned therapist Harville Hendrix.  The "Imago" is the unconscious image we hold of our parents and significant caregivers. According to Hendrix, people select their mates by seeking "Imago matches" – individuals who resemble their parents in positive and negative ways. A couple's relationship dynamic is created and shaped as each partner interacts with his or her Imago match, revisiting unfinished or unresolved issues from childhood. The goal of therapy is to assist clients to develop conscious, intimate, committed relationships, through the use of exploration and development of specific skills to be practiced daily.  While some clients come to us specifically to work with our Imago trained clinicians, others choose a more fluid approach to their issues.
In addition to couples work, we often work as a team in treating families.  Often a young person will see our adolescent specialist regularly, and the parents will work with another therapist within our group.  This is one of our unique advantages as a practice, as it provides an opportunity to meet occasionally with the entire family.  We find that holding an occasional family session can help a family immensely in finding common ground, airing differences in a neutral setting, and developing strategies to improve the relationships within the family.