Individual Therapy
"Life is not what it's supposed to be. It's what it is. The way you cope with it is what makes the difference."  Virginia Satir

At Full Spectrum, we practice Motivational Interviewing with our clients.  That basically means that we meet you where you're at.  We don't see it as our role to decide how and when you should change. We are just here to assist you with the shifts you want to make. We can help you identify how some of your thoughts or behaviors are getting in the way of living the life you would like to live.
Part of our process is making sure the therapist is the best fit for the client, even if that means referring you outside of our practice.
We see individual clients for many issues; substance abuse, depression, anxiety, trauma, parenting issues, anger management and much more.
You can expect a nonjudgmental and compassionate approach from each of our therapists.  We're happy to talk with you on the phone about whether our services might be suited to your needs.
Couples Therapy
Every member of our staff is a Marriage and Family Therapist, and much of our therapy is done with couples, regardless of whether alcohol or substance abuse is an underlying issue.  Each of our therapists has their own approach to couples work, and we always utilize therapist/client matching to ensure the best possible outcome for the client.
One such approach to couples therapy is based on renowned therapist Harville Hendrix' concept of Imago Relationship Therapy. This is a groundbreaking approach to working with couples. The "Imago" is the unconscious image we hold of our parents and significant caregivers. According to Hendrix, people select their mates by seeking "Imago matches" – individuals who resemble their parents in positive and negative ways. A couple's relationship dynamic is created and shaped as each partner interacts with his or her Imago match, revisiting unfinished or unresolved issues from childhood.
The goal of Imago Relationship Therapy is to align our conscious mind (which usually wants happiness and good feelings) with the agenda of our unconscious mind (which wants healing and growth). Thus, the goal of therapy is to assist clients to develop conscious, intimate, committed relationships. The transition to align the conscious and unconscious parts of our mind cannot take place through insight alone. Specific skills and processes are necessary that need to be practiced daily to shift us from having an unconscious marriage to a conscious marriage.
The therapist coaches couples to work through their unresolved childhood issues by increasing awareness. This process helps to create a safe, passionate and committed conscious relationship.
Adolescents / Young Adults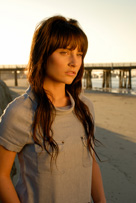 The issues faced by adolescents and people in early adulthood are unique.  That's why Full Spectrum Recovery has specialists like Galen Garbarino-Wilson work with this population.  Galen has focused on working with teens and young adults for over ten years.
"I particularly enjoy working with adolescents and young adults on this journey we call life. I provide my clients a safe, nonjudgmental, therapeutic space to explore what is not working in their lives. Working from a Motivational Interviewing perspective allows me to meet my clients where they are, instead of dictating where I think he/she should be in his/her process of change. MI is a very nonjudgmental and respectful therapeutic approach."
Whether you are struggling with substance use issues, depression, anxiety, overwhelming stress, or relationships, Galen and our other specialists are here to listen and help you achieve positive change.
You can call or text Galen directly at 805.705.2139, or email her at galengarb@verizon.net.