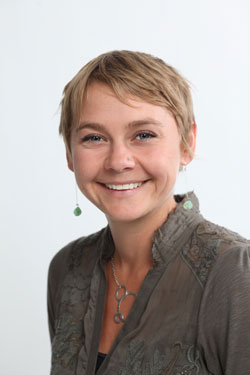 Caitlin Slutzky is a registered Marriage and Family Therapist Intern (Registration # 61229). She earned her MA from Naropa University in Boulder, Colorado and completed her certification in Gestalt Therapy through the Gestalt Institute of the Rockies. She has extensive training in the treatment of trauma and addictive behaviors – drawing from somatic-based therapies, motivational interviewing, mindfulness practices, experiential processes, systems perspectives, bioenergetics, and developmental models. By way of her education and clinical experience, Caitlin has honed her skills for working with trauma and abuse, sexual abuse and sexual assault, addictive and compulsive behaviors, depression and anxiety, family therapy, and grief.
Caitlin is an experienced family therapist, working primarily with families whose children engage in self-destructive behaviors. She also greatly values working with individuals (adults and adolescents), couples, and groups. Caitlin's practice is informed by her rich experience in a variety of settings ranging from traditional to non-traditional, including a not-for-profit counseling center, a family-centered/teen-inpatient treatment program, nature-based wellness programs, and a center that specializes in the treatment of early childhood sexual abuse.
Caitlin also loves working with military service members and veterans, specifically those who may have signs of PTSD and who are having difficulty assimilating back into civialian life (rebuilding relationships with loved ones, finding meaning in their work, and making sense of their time in the field). She has co-facilitated retreats for female service members (combat and non-combat) through The Women's Wilderness Institute in Boulder, Colorado.
Caitlin's commitment to value people's strengths, be a companion in their struggles, and support others in deepening their relationship with themselves and living a fuller and more satisfying life, is primary in her work.
To reach Caitlin Slutzky directly, please call: 805.705.1924