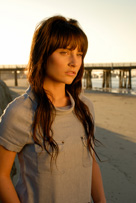 The issues faced by adolescents and people in early adulthood are unique.  That's why Full Spectrum Recovery has specialists like Galen Garbarino-Wilson work with this population.  Galen has focused on working with teens and young adults for over ten years.
"I particularly enjoy working with adolescents and young adults on this journey we call life. I provide my clients a safe, nonjudgmental, therapeutic space to explore what is not working in their lives. Working from a Motivational Interviewing perspective allows me to meet my clients where they are, instead of dictating where I think he/she should be in his/her process of change. MI is a very nonjudgmental and respectful therapeutic approach."
Whether you are struggling with substance use issues, depression, anxiety, overwhelming stress, or relationships, Galen and our other specialists are here to listen and help you achieve positive change.
You can call or text Galen directly at 805.705.2139, or email her at galengarb@verizon.net.